Working Groups:
To remove fine particles from combustion, pyrolysis and
gasification novel electrostatic precipitators are developed in fundamental studies. The CAROLA®- Electrostatic Precipitators clean offgas from industrial incinerators and from residential wood combustion.


Phone: ++49(0)721 / 608 - 24710
eMail: andrei bologaYru6∂kit edu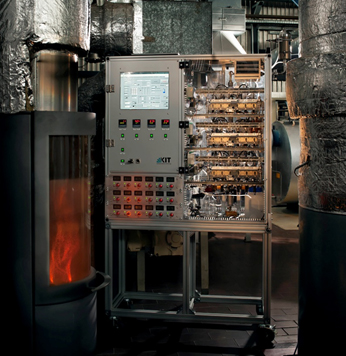 To deposit reproducible amounts of nanoparticles onto biological interfaces (lung cells, bacteria) we develop the "Karlsruhe
Exposure System". This system is applied for the assessment of
the toxicity of nanoparticles and pollutants from biomass combustion.
Phone: ++49(0)721 / 608 - 23807
eMail: sonja muelhoptFch6∂kit edu


The formation of nanoparticles in high-temperature processes and microwave plasma is measured by a novel particle mass spectrometer. Model calculations are developed and validated by these experimental data.
Phone: ++49(0)721 / 608 – 22123
eMail: hartmut maetzingRnx2∂kit edu
To quantify and reduce the emission of toxic trace metals from thermal processes we develop measurement systems and gas cleaning processes. The MercOx®-process cleans the flue gas from hazardous waste incinerators.
Phone: ++49(0)721 / 608 - 23029
eMail: hanns-rudolf.paur∂kit.edu