Department Aerosols and Particles
Head of Department: Dr.-Ing. Hans-Joachim Gehrmann
Working Groups:
To remove fine particles from combustion, pyrolysis and
gasification novel electrostatic precipitators are developed in fundamental studies. The CAROLA®- Electrostatic Precipitators clean offgas from industrial incinerators and from residential wood combustion.


Phone: ++49(0)721 / 608 - 24710
eMail: andrei bologaAma3∂kit edu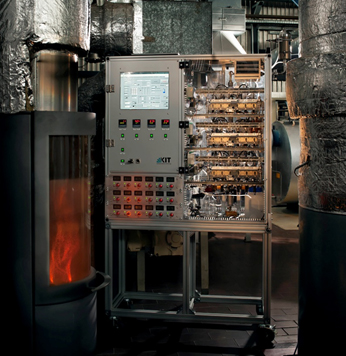 To deposit reproducible amounts of nanoparticles onto biological interfaces (lung cells, bacteria) we develop the "Karlsruhe
Exposure System". This system is applied for the assessment of
the toxicity of nanoparticles and pollutants from biomass combustion.
Phone: ++49(0)721 / 608 - 23807
eMail: sonja muelhoptRcy1∂kit edu


Investigation of
Formation and behavior of nanoparticles in high temperature processes

Thermal and chemical stability of Carbon fibers in high temperature processes
For this purpose, experiments are performed in lab and pilot scale as well as in industrial plants.
Numerical models are developed and validated.
Phone: ++49(0)721 / 608 – 22123
eMail: hartmut maetzingVbc1∂kit edu